Seminars
Alain Ducasse Education. Animation Cuisine
Live Cooking Buffet - Live Cooking Bistrot - Live Cooking Snacks
Seminars - Greece
A unique 3-day program will be held for the tourism market professionals (Chefs, cooks, Restaurateurs, Hotel administration) on 7th, 8th and 9th February 2017, in Athens, for the first time worldwide, from Ducasse Education of the famous French Chef Alain Ducasse, onto new recipes and new techniques on
ANIMATION CUISINE - Live Cooking in front of the guests.

As hotels looking for new trends and modern ideas for their clients, Animation Cuisine is a way of cooking, which always impresses.

Guests are able to view most of the manufacturing process of the recipe in front of them, to see fresh products which are used for the dish they will eat and to see from a close up the cooking techniques used by the Chef, which makes the whole process more interactive.

It is found mainly in Resort hotels but in City hotels is being used more and more nowadays.


Program Outline
Day 1 - Live Cooking Bistrot
Day 2 - Live Cooking Buffet
Day 3 - Live Cooking Snacking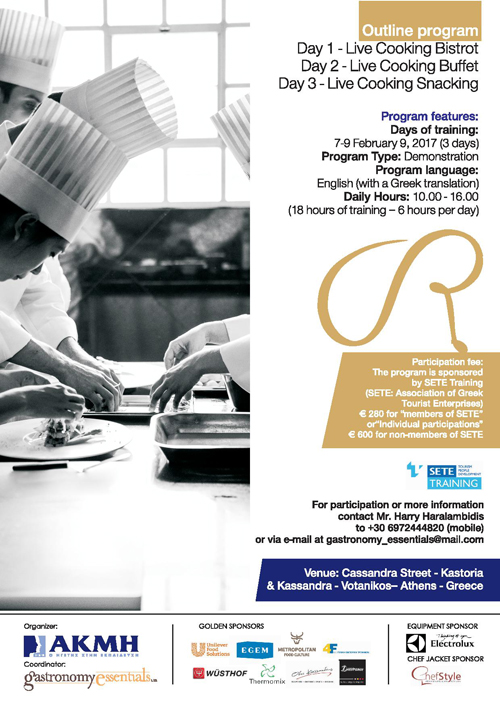 Program features
Days of training : 7 - 8 - 9 Φεβρουαρίου 2017
Program Type : Demonstration
Program language : English (with a Greek translation)
Venue: Cassandra Street - Kastoria & Kassandra - Votanikos - Athens - Greece
Daily Hours : 10.00 - 16.00 (18 hours of training - 6 hours per day)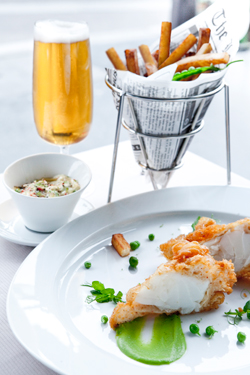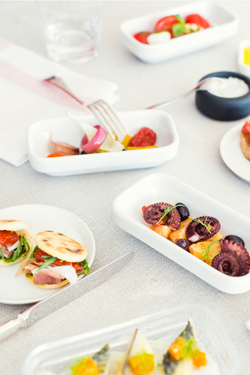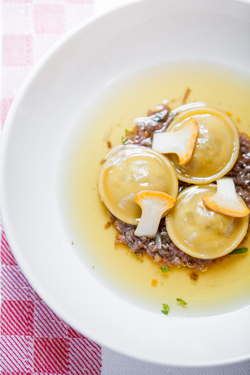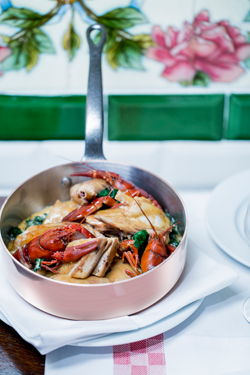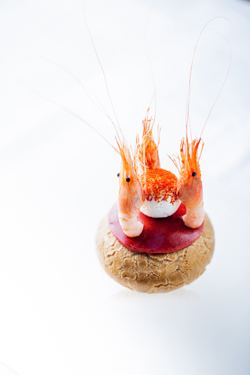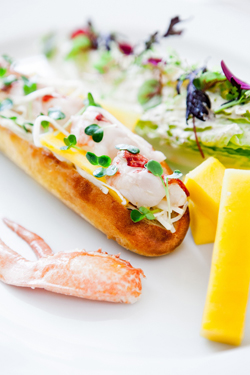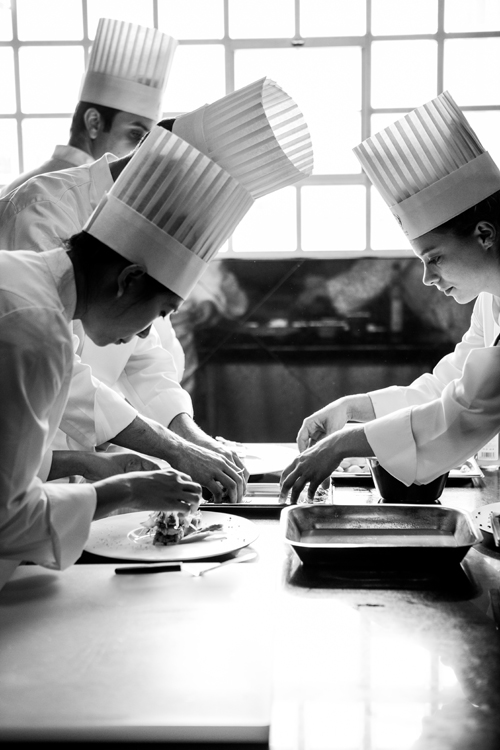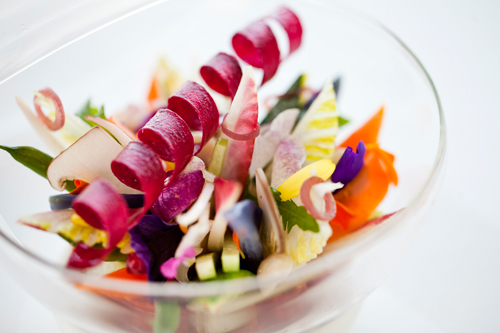 Participation fee
The program is sponsored by SETE Training
(SETE: Association of Greek Tourist Enterprises)
€280 for members of SETE or Individual participations
€600 for non-members of SETE
Bank Details
PIRAEUS BANK
Account Holder: AKMI S.A.
Account Number: 5044 053108 721
ΙΒΑΝ: GR57 0172 0440 0050 4405 3108 721

Participation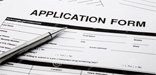 To participate fill in the "Application Form" that you may find at SETE's Site "Animation Cuisine" Live Cooking Bufffet - Live Cooking Bistrot - Live Cooking Snacks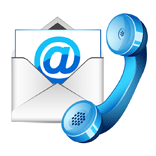 For participation or more information, please contact Mr. Harry Haralambidis at following details:

Τ. : +30 6972444820

E-mail : gastronomy_essentials@mail.com

Site : www.Cucina.gr

ORGANISER
| | |
| --- | --- |
| | SETE TRAINING |
COORDINATOR
| | |
| --- | --- |
| | Gastronomy Essentials |
GOLDEN SPONSORS
| | |
| --- | --- |
| | Unilever Food Solutions |
| | Egem |
| | METROPOLITAN |
| | 4F |
| | Wusthof |
| | DELIFRANCE |
| | THERMOMIX |
| | Odos Kassandras |
EQUIPMENT SPONSOR
| | |
| --- | --- |
| | ELECTROLUX |
CHEF JACKET SPONSOR
| | |
| --- | --- |
| | Chefstyle |
---